Disclosure: I was provided with 5 weeks of golf lessons at Golfer's Grail through the Get Golf Ready Beginner Clinic in exchange for blogging about the experience. All whiff-avoiding opinions are my own.
A few days ago I wrote about a new adventure I'd be taking on: learning how to play golf!
Lesson 1 was a few days ago and I must say, it was a blast!
Brian (who came for moral support!) and I arrived at Golfer's Grail a little early so that we could check out the place, get to know the staff, and enjoy a beer while waiting for the others to arrive. When you first walk in, you're greeted with huge floor to ceiling screens that project the many golf courses you can virtually play on. In front of each screen there is a "green" turf area to tee off on, high top tables and comfy chairs to relax in between rounds (or to spectate from), a pro shop, and a bar area offering draft beers, an awesome wine selection, and happy hour specials throughout the week.
As we waited, we were able to chat with our group instructor, PGA pro Jim Wright and Golfer's Grail owner Jeff Sproat. Jeff showed us around, and introduced us to the perks of indoor golf. I must say the thought of climate controlled golfing in Florida IS a plus, as far as I'm concerned! The idea of being able to virtually play golf around the world is also a neat concept!
As the other members of the group arrived, we started by introducing ourselves and talking about why we were interested in learning golf. Jim then introduced himself and his assistant, Jeff's son, Jason Sproat, who is currently a PGA apprentice. We then began going over some of the history and overall goal of the game. Like I said previously, I've never played golf, aside from a few rounds of putt putt here and there, so I really don't know much about the game. I did, however, know a bit about the scoring, as the idea is to shoot for low numbers, instead of high. One of my favorite comments of the lesson is when Jim said that there weren't any comment sections on a scoring card, and how it's all about the number of swings it takes you to get the ball in the hole- whatever method that may be! For such a complicated game, that seemed to make things much simpler in my head!
He went on to introduce us to some basics: golf terminology, general rules, etiquette (no Instagram selfies on the course!) and the purpose and use of each club.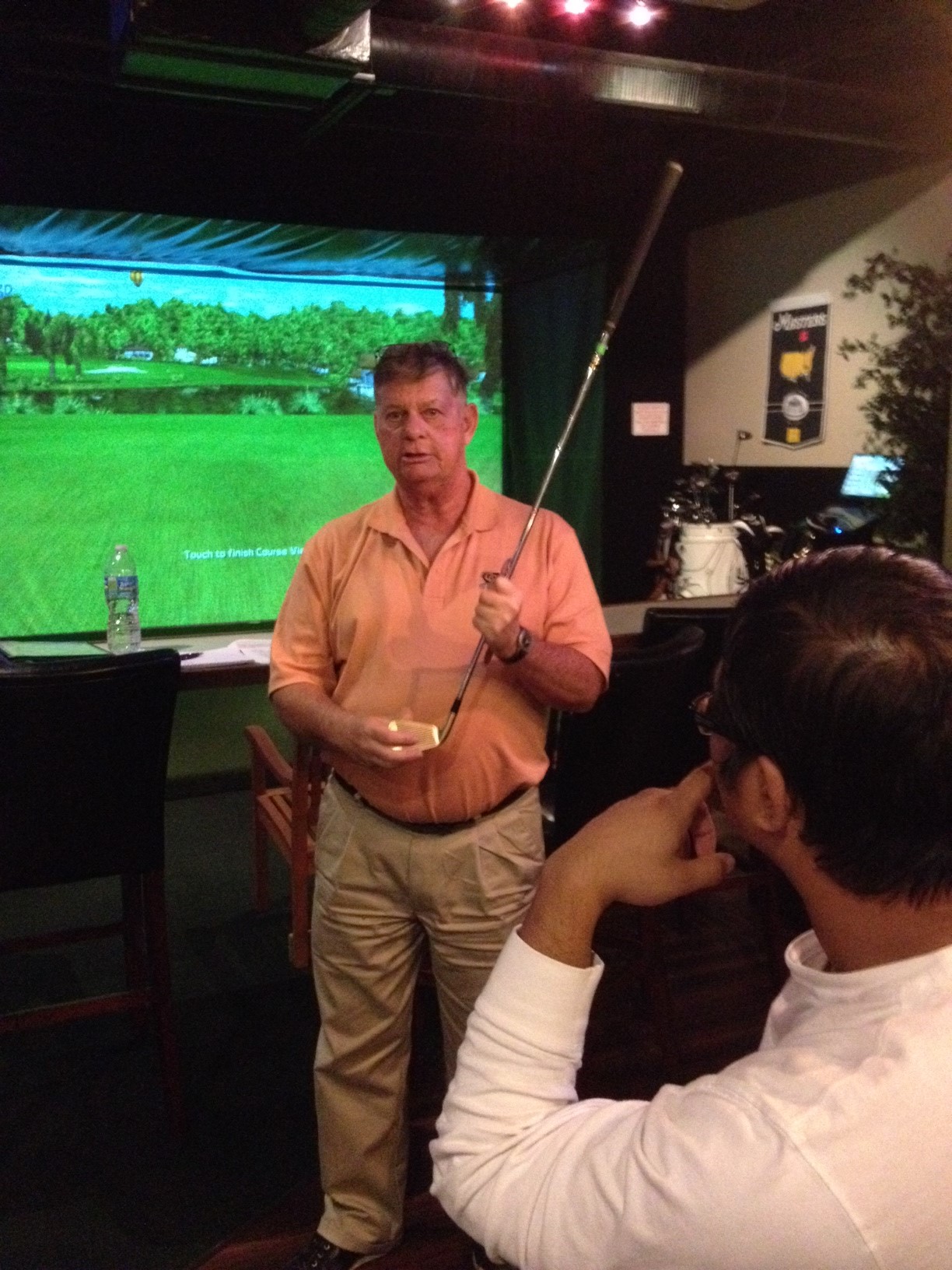 I must admit, I was a bit overwhelmed after the golf club spiel. I didn't realize there were so many different types of clubs! And that they had special places in the golf bag! By the end of the clinic, I'm sure that knowledge will be second nature! ;)
At this point, we were all excited to get our hands on the clubs and start some swinging! Jim walked us over to two of the screens and we began with the first portion of the lesson: GRIP. Before leaving for the clinic, Brian had given me a little 101 on how to hold a golf club properly (and not hold it like a softball bat!), so when Jim started showing us, I had somewhat of an idea of where we were headed. Once we had the grip properly positioned, we went on to do some practice swings to get a feel for how the club should feel when properly gripped. He showed us how our arms should be positioned while gripping the club, and how our fingers do much of the controlling of the club. Although I tried to not have a white-knuckled grip, it was hard to do! It felt awkward to me, and definitely something I need to continue getting used to.
The next portion of the lesson focused on ALIGNMENT. He showed us ways to help us set up our stance by placing perpendicular clubs on the floor beneath us until we got the hang of the alignment process. He showed us how to position our feet, hips and shoulders and how to line up forming the "triangle" when we're preparing to swing. Once again we practiced a few swings knowing this new information about alignment.
We then moved on to POSTURE. Jim showed us correct posture, and easy ways to ensure we're standing correctly while holding and swinging the club. He talked to us about making sure we were "loose" (I was SO tense), and the importance of keeping our knees flexed. I definitely need to practice that "natural" set up feeling. I think I was overthinking it the first time around, making my muscles just a bit too tense!
Before our lesson ended, we were able to put our new skills to the test with some putting practice. The clinic focuses on taking us from the hole to the tee; so even though putting would be something we would do towards the end of a hole, we're starting there as it's a good maneuver for beginners to learn first. Jim stressed the importance of staying still during putting, keeping our eye on the ball, and making sure we're remembering PGA (Posture, Grip and Alignment!).

Get it? Clever.
And in the end, I definitely felt as though I had learned a thing or two in that 90 minute lesson!
Jim was an excellent (and patient) instructor. He gave us great feedback when we were looking good or needed to fix something, and really helped to explain things carefully and specifically; the perfect instructor for this beginner! I'm excited to see how I improve over the next 5 weeks, and cannot wait to return for lesson 2!
If you would like more information on the Get Golf Ready Clinic or anything else that Golfer's Grail has to offer, please check out their website! :)
-Steph