I was invited, along with the Tampa Bay Bloggers to participate in a complimentary tasting at Takara Sushi and Sake Lounge in Tampa in exchange for a review and blog post. In addition, I received compensation in the form of a gift card, however all deliciously fishy opinions are my own.
I'm not sure if fun is allowed on Tuesday evenings.
I mean in my world, Tuesdays are reserved for 1) complaining about how slow the work week is going 2) faculty meetings 3) complaining about how slow the work week is going.
However, last Tuesday evening made for a not-so-ordinary Tuesday.
The Tampa Bay Bloggers were invited to a fantastic tasting event over at Takara Sushi in New Tampa to try out some of their delicius date night specials, sake signature drinks and vegetarian sushi options.
I first learned about Takara when they reached out to some of my blogger pals and invited them in for a sampling and review last summer. I ended up winning a gift card from one blogger's giveaway, and brought my friend Nayra (another sushi lover like me) to have lunch a few months ago. We were very impressed with the quality, freshness and overall feel of Takara, that we couldn't wait to go back to try other menu items.
When I learned about the invitation our blogging group had received, I knew I'd have to be there!
Brian isn't a fan of sushi (although he's never TRIED it, he's just assuming he doesn't like it), so I put it out there to my non-blogging chicas and Liz agreed to be my date for the evening!
When we got to Takara, most of the group was already there, including some BIG names in the Tampa Bay blogging world! Denise from RunDMT, Sheriss from Tampa Bay Mom's Blog, Stephenie from Photography by Stephenie, Jennifer from The Foodie Patootie, and Kari from La Bella Vita! We were warmly greeted by the Takara staff and immediately handed some swag, thanking us for participating in the tasting and for our blog post and review we'd be writing in the future. (And a gift for one lucky reader too! Read below for details!)

We started the night off with some great conversation over some of Takara's amazing appetizers.
While we munched on some of THE most delicious appetizers in the Tampa Bay area, we were given a variety of "spirits" to wash it all down. I may, or may not have gotten a tad inebriated on a school night.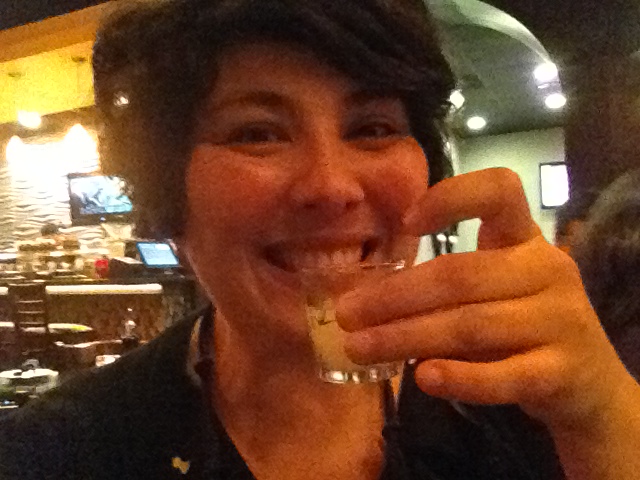 Amazing sake cocktails! Sake sangria (above) and coconut sake with toasted coconut (below)!
And just when we thought there would be absolutely no room for anything else in our appetizer and alcohol filled bellies, our tables were graced with some of the most beautiful and creative sushi I had ever laid chopsticks on.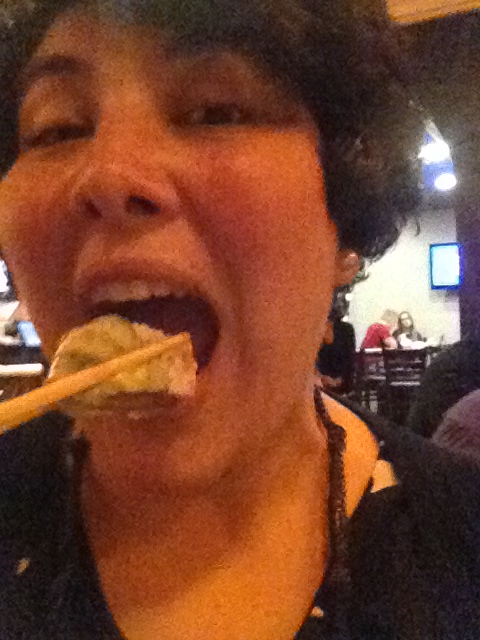 We ate, we drank, we were definitely merry and appreciated the amazing hospitality shown to our group by Takara and Ty-Ku sake.
So let's break it down. What were my favorites and do I recommend?
Well for starters, sake sangria is a must. If you typically don't order a drink at dinner, treat yourself, just this once. You won't regret it!
As far as appetizers go, I suggest the crab cake, ceviche and mussels (pictured above).
And for dinner choices, I'd definitely order the Green Lantern Roll, the Tempura Bagel Roll (melt in your mouth good!), the Tempura Grouper Roll, the Scallop Delight Sashimi, and the Torched Hamachi Roll.
Not into sushi? Takara offers a full menu of traditional dinners like chicken teriyaki, steaks, Korean short ribs, and so much more. And although I didn't get an opportunity to try their desserts (we were passed the point of no return at the end of the evening), I think I will need to order something next time. I hear their green tea ice cream and tempura fried cheesecake are both to die for!

Takara Sushi and Sake Lounge is located at
14913 Bruce B. Downs Blvd. in Tampa, near the USF Tampa Campus, in the same shopping center as the New Tampa Acropolis.
Their hours of operation are:
Monday- closed
Tuesday 11am-3pm; 5pm-10pm
Wednesday 11am-3pm; 5pm-10pm
Thursday 11am-3pm; 5pm-10pm
Friday 11am-3pm; 5pm-11pm
Saturday 2pm-11pm
Sunday 2pm-10pm
And don't forget to keep up with Takara on social media for specials, events and more! On Twitter and On Facebook.
So, want to meet up for lunch?
Oh, and I have a little something something for you! Takara has graciously shared a FABULOUS $25 gift card to give away to one of Orangespoken's readers! With the amazing prices at Takara, $25 is more than enough for a perfect lunch or dinner date! Make your holidays a little brighter by leaving me a comment below telling me what your favorite type of sushi is! I'll pick a random comment on Sunday evening and announce the winner on social media and here at the blog!

GOOD LUCK and HAPPY HOLIDAYS! -Steph