Yesterday we had a great day at my school.
We are working on creating an urban farm and garden on our campus as a way to meet the needs of our students, community and staff and help us grow and learn beyond the four walls of our classrooms. We started with a small garden started by a few of our science teachers, but through the help of amazing donors, hard-working community volunteers, excited students, and dedicated faculty members, we were able to expand that into multiple gardens throughout the school! We are excited to keep adding to this project throughout the next few weeks as we prepare for the 2016-2017 school year!
As we were planning this farm and garden work day, I spent a lot of time spreading the word about our project in an effort to invite the Seminole Heights community to get involved. I emailed, Facebook and spoke to anyone who would listen and ended up with a TON of partnerships including Bo's Ice Cream, who generously donated to our GoFundMe page and provided beverages which kept our workers properly hydrated. Whole Foods Market in Tampa also generously provided us with funds which helped to purchase breakfast items to fuel our volunteers. Fodder & Shine (one of my favorite stops in our neighborhood) provided our volunteers with two rich and hearty and delicious trays of jambalaya which helped to feed all of the hungry workers after a day of gardening! It was such a successful day and I cannot wait to see what this project brings as it grows! 🙂
It should come as no surprise that I cannot stop thinking about that jambalaya.
If you haven't been to Fodder & Shine, I'd suggest you hit them up asap. The menu is simple and delicious, featuring traditional old Florida "Cracker" style recipes.
From their hickory smoked mullet spread and cornmeal fried chicken to their hand-pounded country fried steak and bacon fat cornbread. They also have amazing cocktails and to-die-for desserts!
Since their jambalaya was a special dish they made for our event, and isn't featured on their menu (but it should be!), I wouldn't be able to run over and grab some more to satisfy this craving that has been lingering on my taste buds since yesterday. So I did what every good food blogger would do…. I made my own!
And it's sooooooooooooooooooooooooooooooo delicious.
With fluffy quinoa, and spicy shrimp, chicken and andouille sausage, this dish is easy to whip up on a weeknight evening, and totally cravable!
You definitely want to add this to your weeknight rotation!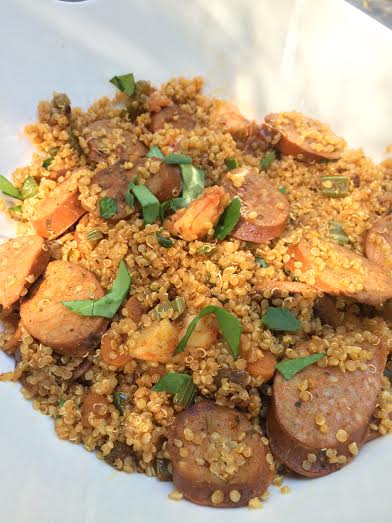 Quinoa Jambalaya
2016-04-24 19:06:34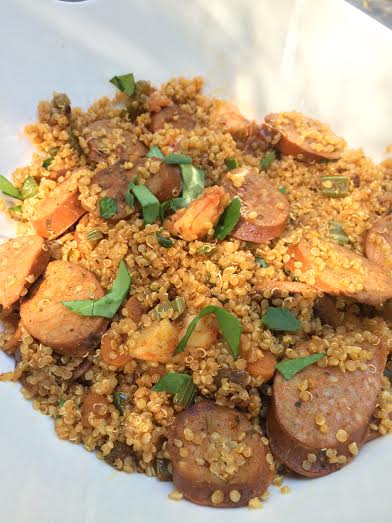 Serves 4
Ingredients
2 tablespoons olive oil
1/2 onion, chopped
2 stalks of celery, chopped
1 full carrot, chopped
1 bell pepper, chopped
1 cup shredded chicken (I used rotisserie from Publix)
6 raw shrimp, peeled and deveined
2 chicken andouille sausages, thinly sliced (I used Trader Joe's brand)
1 teaspoon sea salt
1 teaspoon garlic powder
1 teaspoon chipotle powder
1 teaspoon cayenne pepper
2 teaspoons smoked paprika
1 teaspoon dried oregano
1 8oz can tomato sauce
1 cup rinsed white quinoa
2 cups chicken stock
Instructions
Prepare quinoa according to the package, substituting chicken stock for water for extra flavor.
While the quinoa is cooking, saute the onion, bell pepper, carrot and celery in a large skillet in olive olive until soft. Add in spices and sea salt and stir to coat the vegetables. Pour the mixture into a bowl and set aside.
In the same pan (without cleaning), add a bit more olive oil (if needed) and saute the shrimp and sausage until the shrimp is almost cooked through and the sausage is seared.
Add the sauteed vegetables and shredded chicken into the pan and top with the can of tomato sauce. Simmer on medium low for 6 minutes.
When done, combine the quinoa and the meat and veggies in a large serving bowl. Enjoy!
http://orangespoken.com/