Disclosure: This is a sponsored post through a partnership with organicgirl and the Tampa Bay Bloggers to promote the #GetUrGreenOn campaign. I received compensation in the form of free products for this post. All opinions are my own.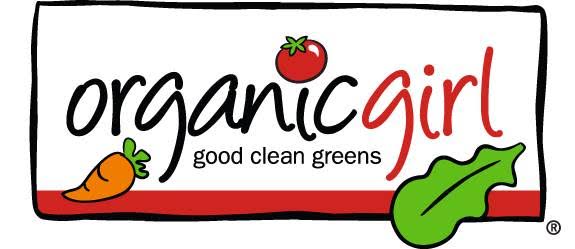 With a flock of healthy, well-loved backyard hens, we are never wanting for eggs.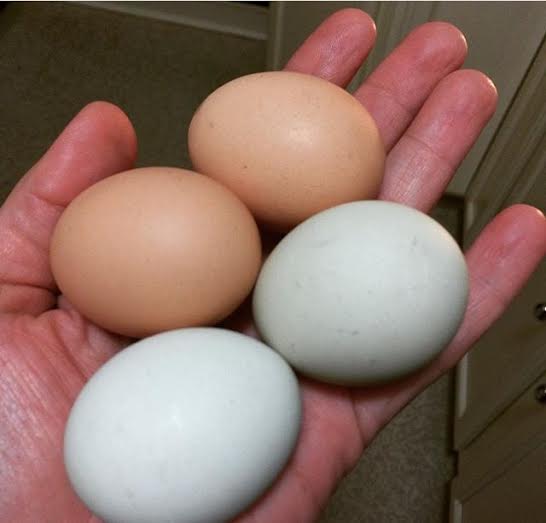 We currently have 7 beautiful hens who are each laying an egg or so a day (they'll take a rest day every now and then). They give us eggs in an array of some of the most gorgeous colors in nature!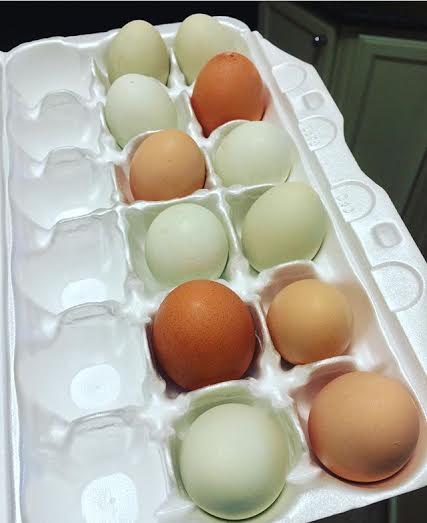 Unlike many of the eggs you purchase in your neighborhood grocery store, our girls aren't confined to small cages for their entire life. They have the freedom to roam all around our yard digging, scratching, running and stretching their wings as needed. We feed them a vitamin-rich egg laying blend and supplement their diet with meal worms and fresh fruits and vegetable scraps (they love strawberry caps and pepper seeds!). All of these things (plus lots of love) make for delicious eggs with buttery golden yolks from happy, healthy hens.
If you cannot raise hens of your own, I would suggest purchasing eggs from the Happy Egg Company (Walmart or Ingles) or Vital Farms (Target, Whole Foods or Fresh Market). Many farmer's markets will also sell free range eggs from local farmers. Supporting these egg companies means you are supporting hens who are humanely treated and spend their lives outside in the fresh air. As hard (and I mean hard!) as it is to lay an egg each day, they definitely deserve it!
That's my chicken lesson for the day! Hey, I'm a teacher. I can't help it! 😉
I LOVE organicgirl greens. They have such amazingly fresh varieties of salad mixes and dressings, and I always have fun playing around with all of their options. Recently I brainstormed some new recipes for deviled eggs, one of my favorite snacks of all time, when an idea hit me.
Instead of traditional mayo and mustard that typical deviled eggs recipes call for, I used the lemon caeser dressing from organicgirl's line of delicious dressings. This Caesar is so flavorful, with the bite and salt of the Parmesan and crisp and tart flavor of the lemon, that it was a perfect pairing to the rich buttery yolks of the eggs. The filling also has chopped pepper greens folded into it and I topped each bite with crumbled uncured, sugar free, dry-rubbed bacon and more pepper greens. The Peppergreens mix definitely has a kick, with arugula and mustard greens! These little bites would be a hit at your next gathering, or the perfect protein pick-me-up addition to your lunchbox!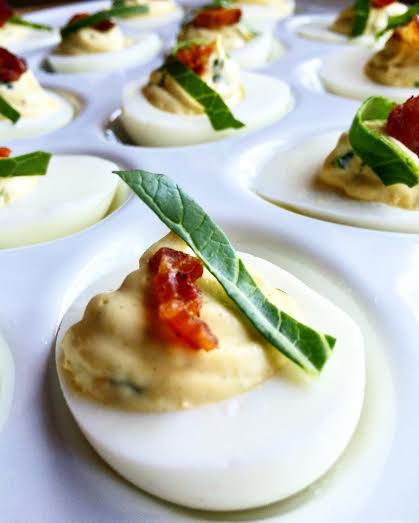 Here is the recipe!
Peppery Caesar deviled eggs
2016-02-20 08:51:10
Ingredients
12 hard boiled eggs
1/3 cup organicgirl Caesar Rules! dressing (shaken well)
1/4 cup whipped cream cheese
1 tbsp. raw unfiltered honey
1 cup organicgirl Pepper greens
2 slices of crisp bacon, cooled
1 tsp. sea salt
1 tsp. cracked black pepper
Instructions
Prep work: Boil the eggs, let cool and peel the shell off. Crisp the slices of bacon, drain on a paper towel and let cool.
Cut eggs in half and remove the yolk. Place the yolk into a mixing bowl and the white halves onto a paper towel. Sprinkle the whites with a tiny pinch of salt.
Combine yolks with the cream cheese, dressing, honey and salt/pepper.
Finely chop 3/4 of a cup of the Pepper greens and gently fold into the filling using a spatula.
Place the whites onto a serving platter and fill each one with about a tablespoon of the filling. You can use a spoon or a piping bag if you want to make them pretty.
Top each egg with bacon crumbles and garnish with more peppergreens.
http://orangespoken.com/